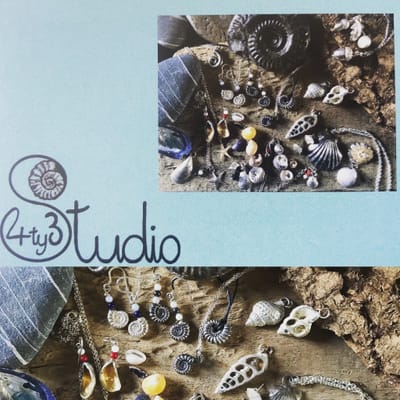 Studio4ty3 was opened officially in September 2020. A haven for creating an increasing range of artwork. A home for my silversmithing tools and also for my sewing machine to name but a few.
Natural objects recreated in silver
My silver pieces began when I couldn't find a realistic ammonite pendant. Having walked on the beach at Charmouth many times, I decided to start with a real ammonite and cast from that. The resulting piece was very successful and was instantly something that I wore all the time. I enjoyed the process so much that I began to look for other ammonites, shells and natural objects that might work well cast in silver.
What started as a hobby quickly became more than that when people started asking where I had bought my jewellery. Once they found out I had made it, they wanted to know if I sold my work and so that's what I started to do.
All pieces will be posted registered next day delivery at a cost of £7.50. This is to insure each item adequately and make sure that you receive your purchase promptly within 3-5 days of purchase - although I am often able to post quicker than that!